Owner of closed Swansea book shop sets up mobile store
http://www.southwales-eveningpost.co.uk/Owner-closed-Swansea-book-shop-sets-mobile-store/story-19560856-detail/story.html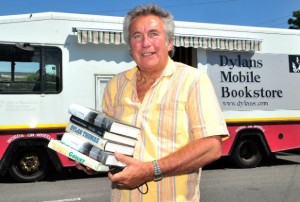 T was a sad day for lovers of the written word when Swansea's Dylan Thomas Bookshop closed its doors last year after more than 42 years of trading in the city.
The store had built up an international reputation for its stock, which included rare books, ones of Welsh interest, as well as those by and about the poet himself.
The business attracted discerning book lovers from across the globe, but in the digital age it faced increasing competition from the likes of Amazon, eBay, Kindles and smart phones.
But now the man behind the shop, antiquarian bookseller Jeff Towns, is once again getting his show on the road — this time literally.
Having bought a giant former mobile library, Jeff is launching Dylan's Mobile Bookstore, stacked with a selection of antiquarian and second-hand books, to become possibly the first business of its kind in the country.
It has up to 5,000 books on board to browse or buy, and Jeff will be touring the country — starting on Saturday at the inaugural Uplands Market, before heading to this year's National Eisteddfod.
And next year it has been booked to appear at the Laugharne Weekend, the Welsh Literature Festival at Dinefwr Castle, the National Eisteddfod in Llanelli, the Do Not Go Gentle festival in Swansea, and Welsh language book fairs in Bala and Aberystwyth.
Jeff, sometimes known as Jeff the Books, said: "Times have changed, and people have changed. So too have their habits, and the book business is no exception. It's a very different beast these days, but hopefully this will provide a lovely new opportunity for lovely people to buy lovely old books.
"We're going to take it to the people, charabanc style, to literary festivals, music festivals, art festivals, in fact anywhere that will have us.
"Places where like-minded folk can hop on the bus, hang out, listen to music and poetry and hopefully buy a few books."
It is not the first time Dylan's Bookstore brand has had to re-invent itself. He had a shop in Salubrious Passage, off Wind Street, but when the pubs and club moved in, the area changed and he moved on. He then had a shop with a cafe in the Dylan Thomas Centre but had to leave.
He added: "I tried to open in King Edward Road but finally realised people just aren't reading like they used to. Books can be bought online with such ease now, and you can't compete with the likes of Amazon."
The mobile store came about after Jeff brought the shutters down on his final bookstore and sold 30,000 of his remaining books to a fellow dealer in Hay-on-Wye. But he still had about 25,000 of his best books stored in a lock-up and needed to get rid of them.
Find out where you can get on the bus by following @thedylanthomasguy on Twitter.
FIVE examples of books on offer from Dylan's Mobile Bookstore below. Tell us your favourite read by posting a comment.1. The Natural History of Gower2. Lolita, by Vladimir Nabokov3. The Collected Poems of Dylan Thomas – 1934-19524. Mumbles and Gower Pubs5. On the Black Hill, by Bruce Chatwin
Read more: http://www.southwales-eveningpost.co.uk/Owner-closed-Swansea-book-shop-sets-mobile-store/story-19560856-detail/story.html#ixzz3UBcQEeoU
Follow us: @SWEveningPost on Twitter | SWEveningPost on Facebook