OH, FOR THE LOVE OF BOOKS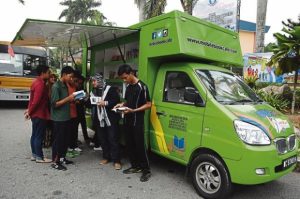 KUALA LUMPUR, April 30 — She is on a mission to spread knowledge and love of reading among students and she is doing it her way.
Meet Amirah Othman, 32, a gutsy lady who decided that her true calling in life is to help the young cultivate the love for reading.
She has abandoned all her paper achievements to travel the length and breadth of Johor, reaching into the deep interior to peddle her wares.
Comics, novels, motivation books in Bahasa Malaysia and English fill her green van as she goes around primary and secondary schools in the state to inculcate the love for books among students.
"I don't see myself as a book seller. I sell knowledge and that's my goal in life," said the Pontian-born.
Starting the Mobile Book Cafe concept four months ago, she invested RM75,000 to buy a van, resprayed it and installed wooden cabinets for the books.
"People ask me why don't I just get a stable job and earn a monthly salary. After all, I have gone to University Tun Hussein Onn in Batu Pahat and graduated in Information Technology.
"I also have a diploma in Business Administration from the Seberang Prai Polytechnic. But I don't want to work for people. I prefer to be independent," she said.
Amirah believes selling books is not all that bad.
"I help the young mature, provide them with a channel to enrich their lives. It gives me so much satisfaction."
Things are looking good for her.
"I drive the van and I have a female assistant to help me because there are times when we have to put up in hotels, especially when we go to rural areas and Felda estates.
"My parents are puzzled why I chose to do this business. But I have always been independent. I have worked in a furniture factory and I have worked in a shop selling fresh and frozen chicken. I am quite good at slaughtering chicken," she said.
But that was during her student days. She now sees herself as an entrepreneur, albeit a small one before she moves into bigger ventures.
"For now, I am happy with my achievements. It was tough initially but I am getting used to it. I carry 2,000 books in my van. Depending on the situation I restock once a month.
"There have been good and bad days. During my first trip to SK Bandar Pontian, I managed to collect RM2,500 over two days of sales there.
"I was over the moon. If you have the right books or even comics, students are willing to part with their money," she said.
But Amirah admits there are times when students are scared to approach her vehicle especially in rural areas.
"Students in rural areas are not used to buying books. I had to cajole them to come closer. They can take any book or comic they want and read for free. I will not stop them.
"Sometimes there is a misunderstanding that free reading also means free books. They want to take the books away after reading them," she said.
"I think they are embarrassed as they have never seen so many books before. My intention has always been good. If you cannot afford to buy you can read for free as long as you don't damage the books. Reading is a habit which needs to be cultivated and when I see young girls and boys flocking around my van, I am happy."
She said an uphill challenge is gaining entry into schools.
"I have written to the education ministry requesting for permission to park my van in the school compound for the students' convenience. I also hope the school administration will inform pupils they can purchase books from me," she said.
The books sold by Amirah ranges between RM3 and RM100 (hardcovers).
She said reading habits among students are peculiar. The young ones prefer comics while secondary students prefer motivational books.
On average, Amirah travels to eight schools in a month with an average of two-day sales in each school.
Is it a dangerous job?
She tries to avoid driving at night and she makes sure her van is well-maintained.
She sees herself doing this business for a few more years after which she plans to be a motivational speaker.
"Helping students realise their full potential is a noble thing to do. But you need to motivate them. You need to guide them and I want to contribute to society," said Amirah.
She has done well for herself and now she wants to do good for society.
– See more at: http://www.themalaymailonline.com/read/article/oh-for-the-love-of-books#sthash.yHXEqBOS.dpuf
[SOURCE: MALAY MAIL]